Green Beer and Good Times
St. Patrick's Day is coming Calgary! Ever had green beer? Brewed by bearded hipster leprechauns hidden far from civilization somewhere in the Alberta foothills, green beer tastes like regular beer, but it's coloured green. Ahhh fun! Side effects include bathroom hugs with strangers, dollar store plastic hats, and shitty Irish accents saying stupid things that the Irish probably would be offended by. It is good times though, but make sure you celebrate St. Patrick's day properly. Hit up a cool bar or pub, have some beers with good people, but keep it cool hunny bunny and don't over do it. Green puke is not cool.
Go out and have a good time, but don't get too wasted.
Things to do on St. Patrick's Day
Family Friendly Events
---
A Celtic Celebration with Heather Rankin – CPO
https://calgaryphil.com/event/celtic-celebration-heather-rankin/
Location: Jack Singer Concert Hall. 225 8 Ave SE, Calgary, AB T2G 0K9
Lá Fhéile Pádraig Shona! Heather Rankin, of the legendary Rankin family, is a groundbreaking force in Celtic music. She lends her award-winning vocals to Celtic classics, while the Calgary Fiddlers and dancers from the Casey O'Laughlin Academy of Irish Dance will have you hornpiping down the aisles in this St. Patrick's Day special.
---
Calgary Farmers Market St. Patrick's Day Celebrations
http://www.calgaryfarmersmarket.ca/events/details/st-patricks-day
Location: 510 77 Ave SE, Calgary, AB T2H 1C3
Click your heels and head on down to the market for a toe-tapping good time on St. Patrick's Day! Join us for live entertainment, Luck-o-the-Irish games and balloons.
Performance Times
10 am: Ian Gott Irish Dance Academy
11 am: Luck of the Irish Games & Balloons
1 pm: Bow Valley Fiddlers
---
The Irish Cultural Society of Calgary
https://www.calgaryics.org/give?page_id=37
Location: 6452 35 Ave NW, Calgary, AB T3B 1S6
Family-friendly event with activities, food,and entertainment, including Casey O'Loughlin and Possak Schools of Irish Dancing, Bow Valley Fiddlers, Hazel Grey and the Hubcaps, and the best-poured Guinness in town. Tickets at the door. ($5 for members, $10 for non-members, children 12 and under free). Come early, as the hall fills quickly during peak times.
---
Bars! Clubs! Breweries!
---
Born Colorado Brewing St. Paddy's Trivia Day
http://borncoloradobrewing.com
Location: 414 36 Ave SE #3, Calgary, AB T2G 1W4
If the craziness of downtown on St. Paddy's just isn't your scene, we have got you covered!
Come and celebrate all that is Irish with BCB on March 17th.
We can't promise green beer, but…we can promise great craft beer, hilarious trivia questions, and some awesome prizes. Ticket price includes your first glass of BCB beer.
There will be 5 rounds of questions with prizes for best dressed & for the trivia masters! Trivia will begin promptly at 3pm. We recommend teams of 4, but all groupings are welcome!
If you have any questions please reach out to events@borncoloradobrewing.com
---
GLITTER BEER! Brewed by Cold Garden, only available at Bottlescrew Bills
Location: 140 10 Ave SW, Calgary, AB T2R 0A3
This beer is only available here, and only this weekend!
---
North Hill's St. Paddy's Day Party at Elite Brewing
Location: 1319 Edmonton Trail, Calgary, AB T2E 3K6
Join us on Saturday, March 16 at 7 pm for:
🍀 A hat, beads, swag and a beer for only $10!
🍀 Live music and dancing with DJ Kamicaze
🍀 Endless green beer and cider (seriously though)
🍀 A new beer and cider launch
It's going to get wild, don't miss out!
---
First Move Blonde Ale Green Beer (by request) at Red Bison Brewery
Location: 3016 10 Ave NE unit 111, Calgary, AB T2A 6A3
$5 pints and $10 growler fills all day! Open from 1 – 6 pm.
---
St. Patrick's Weekend at Prairie Dog Brewing
https://www.prairiedogbrewing.ca
Location: 105D 58 Ave SE, Calgary, AB T2H 0N8
Green beer ✔
Leprechaun Mimosas ✔
Irish Slammers ✔
Irish Stew ✔
Corned beef ✔
Burnt Ends ✔
Live Music Saturday night after 8 pm✔
Flames game on ✔
Prairie Dog Hole (bean bag toss) Tournament with awesome prizes ✔
20% off all drinks on Sunday✔
---
St Paddy's w/ Shanneyganock (St Johns NL) 25th Anniversary Tour
Location: 1000 9 Ave SW, Calgary, AB T2P 2Y6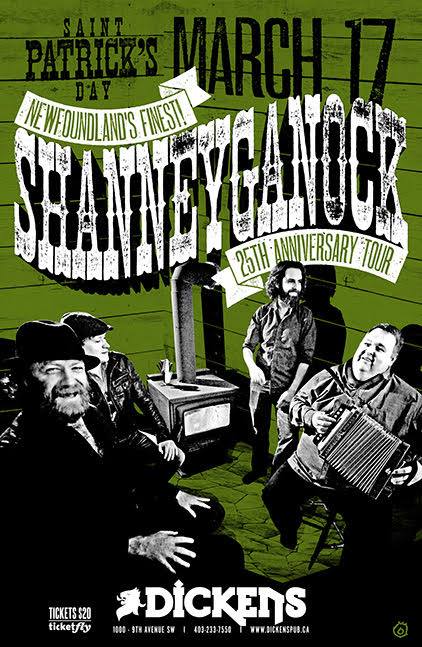 ---
Revival Brewcade
Location: 1217 B 9 Ave SE, Calgary, AB T2G 0S9
---
St Patrick's Day at Ceilis
Location: 351 4 Ave SW, Calgary, AB T2P 0J4
---
St. Patrick's Weekend at Dixon's Pub
https://calgarysbestpubs.com/dixons/
Location: 15425 Bannister Rd SE #24, Calgary, AB T2X 3E9
---
St. Patrick's Weekend at James Joyce Pub
Location: 114 8 Ave SW, Calgary, AB T2P 1B3
March is here, and we're already pumped for our St. Patrick's day festivities! Come on down on March 17th and enjoy a full Irish menu, and a slamming day long performance by Calgary's best Celtic band – Fraid Knot!⠀
⠀
Cant wait either? Then email us at manager@jamesjoycepub.com to get your VIP tickets!⠀
---
St Patrick's Day at the Ship & Anchor
Location: 534 17 Ave SW, Calgary, AB T2S 0B1
St Pats at the Ship! Live music from open till late. Lets do this Calgary!
Bands
---
St Patrick's Party at MUSIC Nightclub
Location: 1140 10 Ave SW, Calgary, AB T2R 0B6
1000+ PEOPLE // CALGARY'S #1 NIGHTCLUB
EVERYONE IS WELCOMED ! (18+)
CLUB ANTHEMS / TOP 40 / HIP HOP / HOUSE / MASHUPS
Professional Photographer / Videographer in Attendance
---
Sin & Gin Soiree Cabaret – Rainbows & Gold!
https://www.eventbrite.ca/e/sin-gin-soiree-cabaret
Location: Mikey's on 12th. 918 12 Ave SW, Calgary, AB T2R 0J4
Sin & Gin is filled with Music, Comedy, Burlesque, Dance, Cabaret and more! This month we are bring you the best variety in Alberta's burlesque, drag and performance art. What else can it be but filled with 'Rainbows & Gold' for this year's St. Patty's Day! This is a perfect evening for your event – Birthdays, Anniversaries, Bachelor/Bachelorettes, and anything that you want to do to take a break and escape. Be ready to partake of the amazing talent that Calgary and Alberta has to offer.
Restaurants
Shamrocks & Shenanigans – Selkirk Grille at Heritage Park
https://www.heritagepark.ca/shamrocks-and-shenanigans
Location: Selkirk Grille at Heritage Park. 1900 Heritage Dr SW, Calgary, AB T2V 1R1
Celebrate St. Patrick's Day weekend in style! Mix and mingle while enjoying a culinary experience that celebrates the best of the Emerald Isle. Explore an array of Big Rock's finest brews from craft to classic, and dance the night away to Calgary's premiere Celtic band, Cabot's Crossing. Sláinte!
---
Things for adults to do without beer
---
The Original St. Patrick's Day Road Race
https://www.calgaryroadrunners.com
Location: 5111 21st Street Southwest, Calgary, AB, Canada
Join the Calgary Roadrunners!  Whatever you want to achieve, we provide a range of opportunities:
Meet and mix with a keen group of runners who share a positive outlook;
Enjoy the experience of running with other beginners and experienced runners;
Better your 10 km, half marathon, marathon or ultra time;
Join one of our free training groups and complete your first race of any distance from 1 to 100 miles;
Participate in our cross-country race series.  Enjoy winter running and a great community event.
Be inspired by casual, social runners out for the enjoyment and record-breaking athletes testing their limits.
https://www.calgaryroadrunners.com/event/st-patricks-race-2019/
Calgary Roadrunners Club Mission Statement
To facilitate, foster and promote distance running for pleasure, fitness, competition and sportsmanship.
To serve as a network for socializing and as a forum for discussing matters affecting the interests of runners.
To advocate on matters of interest and concern to runners in their pursuit and enjoyment of running.
We are a diverse group, from casual, social runners to elite athletes. The club has members of all ages, from the teenagers who get hooked on our cross-country races, to the septuagenarians still running marathons, and the octogenarians, who continue to hold national speed records for various distances!
---
Don't Drink and Drive!
There's no reason to ever drink and drive, but it's especially easy these days to find an alternate mode of transportation to get home if you've been drinking. Here are a few options.
Taxi Companies
Final Thoughts
Go out and have a good time but please don't puke in the streets downtown. 'preciate it!