Everything You Need To Know About Getting From Calgary to Banff
Getting from Calgary to Banff can be tricky if you don't have a car and if you aren't aware of all transportation options. Thankfully there are several to choose from! I've put together this travel guide to help you plan the best route and get the most out of your budget. Banff is one of the most beautiful places in the world and we are blessed living in Calgary to be so close to Banff, however, it's not exactly walking distance (28hrs, if you're interested). Perhaps you're planning on coming to Alberta as a tourist or you're like myself (I don't have a drivers license or a vehicle), which means you're going to need some transportation. This guide should answer every question you have about getting from Calgary to Banff.
I'm going to assume you're a Canadian tourist. Welcome! Banff is amazing and you're in for a treat.
As Banff doesn't have it's own airport, most people end up flying into the International Calgary Airport, then traveling from Calgary to Banff by road, usually by bus. The distance from Calgary to Banff is only about 120 km (75 miles), which takes just over an hour to reach by car, so going through Calgary makes sense on the journey to Banff. Perhaps you're backpacking across Canada, visiting relatives in the area or just live in Calgary.
Fast Facts About Traveling To Banff From Calgary
The distance from Calgary to Banff is around 125 km by car.
Full LTE phone service is available along the TransCanada highway for most of the route. Telus/Bell/Rogers.
Jasper is around 290 km from Banff (3h 30 minutes by car), and 410 km from Calgary.
It takes around 1hr 20 minutes to drive from Calgary to Banff under regular conditions. Longer in the winter or if there are traffic snarls.
The town of Canmore is along the way!
Once you're in Banff there's lots of things to do in Banff without a car.
IMPORTANT: Banff National Park has a fee to enter. See here for details.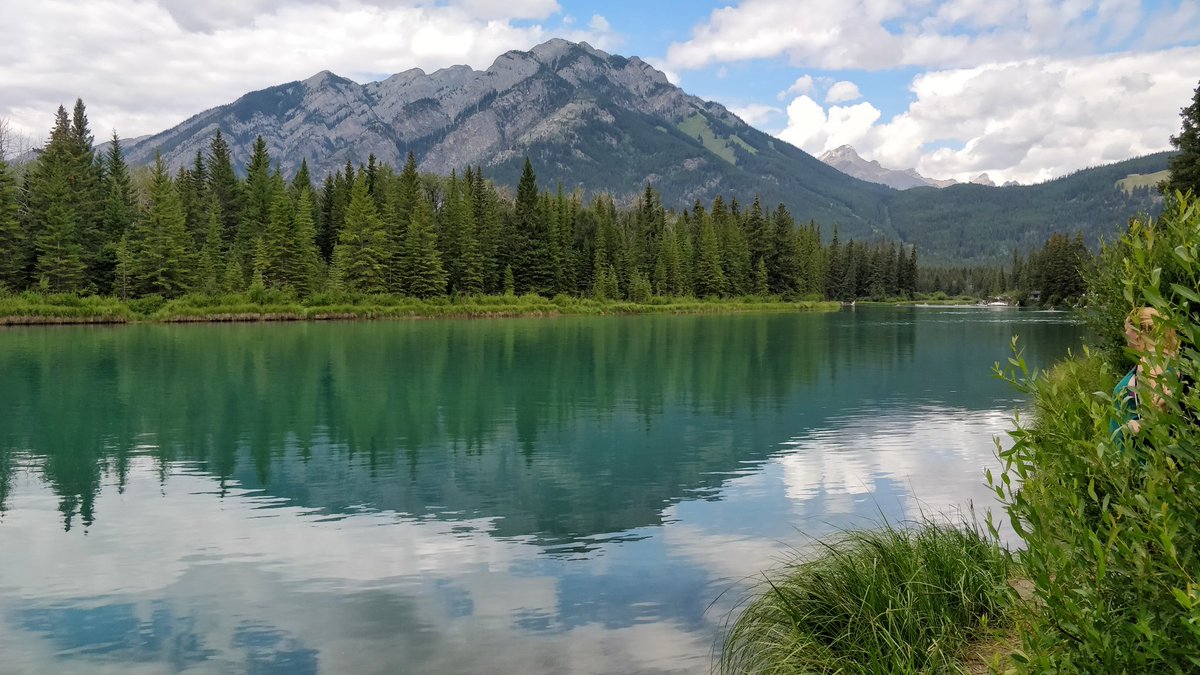 Getting From Calgary To Banff By Bus
If you don't have access to a car and can't rent one, your next best option would be taking a bus from Calgary to Banff. There's several options available, and now that Greyhound is no longer in service here, there's new ones popping up all the time! I'll keep this travel guide updated as new businesses enter the Alberta transportation landscape.
Bus and Shuttle Companies in Alberta
On-It Regional Transit
On-it Regional Transit is a bus service that will take you from Calgary to Banff for only $10 each way! (they also operate elsewhere in Alberta, too). It's the cheapest and best option of getting to Banff for those of us without a car, however, they only run during certain times of the year, and even then only on certain days. Their coaches are clean and well maintained. I was impressed when I checked out their services. If you're able to book a ticket with them, do it. Hopefully one day they come out with a winter shuttle, or even better, year round service! Pets are not allowed unfortunately.
Rates
Regular ticket $10 each way between Calgary, Banff and Canmore.
Children 5 and under are free!
Perks
Friday/Saturday/Sunday service
You can bring a bike! Must reserve in advance.
You can use Roamtransit (local Banff public transit) for FREE using your On-it Regional Transit ticket.
USB ports in the buses.
Service 2019: May 18, 2018 – September 15, 2019.
Banff Airporter
The Banff Airporter is a dedicated shuttle that only runs between Calgary, Banff and Canmore. The Banff Airporter use 24 seat luxury coaches, complete with USB ports, leather seats, overhead lighting, air controls and even a water bottle refill station. You can only catch it at the Calgary Airport, however they are able to drop off (or pick up) at any home or hotel in Banff. In Canmore it only stops at the Coast Canmore Hotel.
Rates (they do offer a senior discount as well)
Adult: $63.99 one way, $127.98 return
Child: $31.99 one way, $63.99 return
Reliable, insured, convenient, almost a dozen trips per day from Calgary to Banff and Canmore, automatic changes to booking time in case of flight delays, takes luggage, drops off in Banff at any home or hotel. Keep in mind: no wifi, no washrooms, only departs from the Calgary Airport and pets are not allowed.
Brewster Express by Pursuit
Pursuit is a luxury travel and hospitality company that has coach buses to all the best destinations in the Rocky Mountains, high-end hotels,  they also operate a number of attractions such as the Banff Gondola. They offer a number of tourism packages to all kinds of attractions and you'll ride in comfort if you use them to get around. In addition to Banff, they also travel to Canmore, Jasper, Lake Louise, the Columbia Ice Fields, The Glacier Skywalk and way more. They've also been around for over 125 years and make excellent tour operators.
Rates
Adults – from Calgary to Banff, the cost is $69 one way. $118 for a return trip.
Children (6-15) – from Calgary to Banff, the cost is $35 one way. $60 for a return trip.
Children (under 6) – free! They'll need to share a seat with an adult.
The Brewster Express shuttle to Banff leaves from the Calgary airport. You can also book from Calgary to their other destinations, prices vary. You'll save 15% by booking a round trip instead of one way.
ABest Transport and Tour Services
ABest is an airport shuttle service that offers sightseeing charter service to almost anywhere in Alberta, including transportation to Banff. You'll be professionally driven in an SUV, which is better for smaller groups, weddings, conferences or group events.
As of now, the rates are $280 per person.
The Banff Express
These guys showed up on October 31st 2018, right as Greyhound flipped the switch to end their services in the western provinces. The Banff Express runs between Calgary and Canmore/Banff that runs twice a day to/from. In Calgary they pick up passengers down at Eau Claire, or the Foothills Hospital, and in Banff at the Heritage Train Station. The stop in Canmore is at the Canmore Visitor Information Centre. Their shuttles have air conditioning, seat belts, and WiFi
Adults: $30 each way.
Kids: $17 each way.
Plus GST, of course.
Rider Express
Rider Express is a coach bus transportation company which offers service not only from Calgary to Banff, but to many other small towns in Alberta/BC and Saskatchewan. They have two main routes – service between Calgary and Vancouver and between Edmonton and Regina. They stop at several small towns between those destinations, and offer daily service to most of them. All in all service is very similar to what Greyhound offered but slightly better.
Their big coach buses have storage underneath for luggage and things like bikes. They also have a small bathroom in the back of the bus, USB ports, even power plugs behind each seat. There's free WiFi too but I found it extremely slow (I'm guessing everyone else on the bus was trying to use it too at the same time).
Big windows, comfy seats that recline a bit.
Bathroom on the bus.
Complimentary WiFi.
Air conditioning.
Service dogs and wheelchairs accepted.
Ticket Prices
Ticket prices are the same no matter when you book.
Tickets prices:

One way ticket from Calgary to Banff: $69.99 after taxes
Round trip ticket from Calgary to Banff, Banff to Calgary: $139.98 after taxes

You get 2 checked bags for free, $20 each after that.
$20 per bike.
Service Between Calgary And Vancouver
Rider Express doesn't stop at every small town along the way, but it does stop at a lot of popular destinations. You can get on or off the bus at any of these stops.
| CITY/TOWN | ARRIVAL | DEPARTURE | PICK UP / DROP OFF LOCATION |
| --- | --- | --- | --- |
| CALGARY-WESTBROOK MALL, AB | N/A | 7:45 AM | WESTBROOK MALL, BETWEEN ENTRANCE 5-6 – 1200 37 ST SW |
| CANMORE, AB | N/A | 8:50 AM | ESSO – 1729 A MOUNTAIN AVE |
| BANFF, AB | 9:10 AM | 9:30 AM | 100 GOPHER ST. BREWSTER SIGHTSEEING |
| LAKE LOUISE, AB | N/A | 10:05 AM | 200 VILLAGE RD- HUSKY |
| GOLDEN, BC | 11:05 AM | 11:20 AM | HUSKY – 1050 TRANS CANADA HWY #1 |
| REVELSTOKE, BC | 12:20 PM | 12:50 PM | 122 HIGHWAY 23 N REVELSTOKE |
| SICAMOUS, BC | N/A | 1:45 PM | HUSKY – 1340 TRANS CANADA HWY #1 |
| SALMON ARM, BC | N/A | 2:10 PM | PICCADILLY MALL 1151 10TH AVE SW |
| SORRENTO-WESTBOUND, BC | N/A | 2:35 PM | PULL-OUT PASS PETRO CANADA AT 1235 TRANS CANADA HIGHWAY |
| CHASE, BC | N/A | 2:50 PM | PETRO CANADA |
| KAMLOOPS, BC | 3:30 PM | 3:50 PM | PETRO CANADA AT 1522 VERSATILE DR. |
| MERRITT, BC | N/A | 4:55 PM | HUSKY – 3999 AIRPORT ROAD |
| HOPE, BC | N/A | 6:15 PM | CHEVRON – 587 OLD HOPE |
| CHILLIWACK, BC | N/A | 6:50 PM | HUSKY – 7620A VEDDER ROAD |
| ABBOTSFORD, BC | N/A | 7:20 PM | ABBOTSFORD INTERNATIONAL AIRPORT |
| SURREY, BC | N/A | 8:00 PM | CURBSIDE ON 105 AVE. ACROSS GUILDFORD RECREATION CENTRE |
| VANCOUVER, BC | 8:45 PM | N/A | CURBSIDE ON 1150 STATION ST – BUS TERMINAL |
Bus Companies Without Service To Banff
Red Arrow does not have service from Calgary to Banff.
Greyhound ended all services in Alberta at the end of October 2018.
Charter Your Own Coach Or Bus
If you've got a large crew coming or you just want to drive around in a big ass bus there are several options. If you don't need a big tour bus many of these companies also rent mini-shuttles and other transport vans better suited for traveling in the Rockies.
Traveling by Hitchhiking, Ride Sharing, Taxis, Uber
Hitchhiking
If you're into flagging down strangers and hoping into their vehicle, you're in luck. There is a popular stretch of road along Highway 1 (Trans-Canada Highway) that hitchhikers regularly use to head west. You can get to this spot by taking the number 408 bus. Click here to see how to get there from downtown Calgary. The 408 will get you pretty close to where you'll be thumbing. There's also a convenience store and some fast food joints over there so you can pickup any supplies or food before you go.
By the way, hitchhiking is illegal within the Calgary city limits. Don't hitch hike .. within the city limits.
This roadway by Valley Ridge literally had some dude hitchhiking in the street view.
If you need to get back to Calgary from Banff go the same route as you took to get there, along Highway 1 aka the Trans-Canada Highway.
Ride Sharing
Taking a Taxi
I'm not sure why you would do this as it'll cost you around $250 from Calgary, but it's an option. Keep in mind that's $250 each way.
Taking Uber
You can use Uber to find someone to take you out there, and it'll cost you about $150, but be warned.. they don't have Uber in Banff. You might not be able to find a driver to bring you home. Taking an Uber to Banff from Calgary would be pretty dumb to do, but hey there option is there.
Driving To Banff By Car
Driving through the Rocky Mountains on the Trans Canada Highway is fun, because the drive is beautiful and there's a lot of stuff to see even stop at, along the way. You'll drive by several look out points, rest stops and even campgrounds that you can stop at to take in the scenery, eat lunch, fish, day hike, and so on. Watch out for wildlife running across the highways. Seeing deer, elk, moose, coyotes, wolves, black bears, grizzly bears, brown bears, skunks, porcupines are regular occurrences.
Expect long delays if there are accidents or avalanches in the mountain passes.
Carry a safety kit in your vehicle.
Bring extra food and water.
Do not text and drive.
Slow down and do not speed around the many blind spots.
Renting A Car
If you have a drivers license, renting a car to visit Banff would be by far the best option and most obvious choice. Renting a car in Calgary and driving to Banff will give you the absolute freedom to see whatever you want, stop anywhere on your own schedule, take scenic routes (around Banff, you'll want to) to see wild life, and access hiking and fishing spots that would be inaccessible otherwise. If it's summer time and you have the money, rent a convertible car! Traveling through the rocky mountains with the cool pine fresh air blasting in your face is not something you can do in most places, and for sure not something you'll be able to do on the bus.
Keep a list of things you'll do in Banff before deciding on the type of vehicle you're going to rent. Will it fit a toddler car seat? Does it have a ski rack? Bike rack?
Book early to not only get the better rates, but ensuring peace of mind by not having to track down or search for a vehicle if you just show up in Calgary.
When booking a rental car, ask about picking it up from a non-airport location to avoid any extra airport fees.
You do NOT need to rent an SUV for winter driving, unless going off road. Car rental companies will put winter tires on their vehicles.
Renting a car will cost you approximately $35 a day, or about $230 per week, depending on the type you choose and the dates you go with.
Car Rental Rates
Each of the below rates were checked using the same criteria.
Summer Rates date range: July 5th – July 7th
Winter Rates date range: November 24th – November 27th
Pick up and drop off time: 12:00 PM
Age: 25+ driver
Canadian citizen
The rate listed below is the cheapest option that came up
Rental pickup location is the Calgary International Airport.
Car Rental Company
Summer Rates
Winter Rates
$258
$98
$66
$92
$70
$103
$162
$167
$258
$100
$218
$118
I have no idea
Their website sucks
$68
$98
As you can see there is quite a difference between companies. It'll save you money by checking around.
TIP! 
Be sure to ask about picking up the rental from somewhere other than the Calgary airport when booking. There is often an additional fee for picking up a car rental from an airport. Some companies offer free shuttles to their other non-airport locations – keep in mind they may need to be booked ahead of time.
Alberta Winter Driving Tips
If you end up traveling to Banff during the winter, you're going to want to take some extra precautions before heading out. Driving through the Rocky Mountains is a wonderful experience, but winter driving in Alberta can be tense or even dangerous, if you aren't prepared.
Check current weather conditions and alerts.
Ensure your vehicle has winter tires.
Stay on the highways and major roads, you don't want to get stuck in a ditch.
Bring extra food, snacks, water.
Bring a USB battery.
Pack a safety kit.
Bring extra blankets.
Check 511 Alberta Road Advisories before traveling.

Download the 511 Alberta app.
Follow @511Alberta on Twitter for reports.
More Reading About Banff
Banff National Park is one of the most beautiful places on earth and you'll want to get the most out of it when you get here. Here's a couple suggestions from Amazon.
---
Common Questions About Traveling From Calgary To Banff
Banff is the best place in Alberta to go for a vacation, anytime of the year. There's lots of things to do in Banff and with that comes a lot of questions too. Below are some questions and answers to hopefully help you plan your adventure.
Can you walk from Calgary to Banff?
Technically you could walk but it would take 1 day 4 hours, according to Google maps. That's without stopping. Not really realistic. Freezing cold in the winter.
Is there a train from Calgary to Banff?
No, there is no train service that travels between Calgary and Banff. The only way to get to Banff is with a vehicle, from Calgary. The Rockymountaineer does provide train service between Vancouver and Banff, also stopping at Kamloops BC along the route.
Is there a bus from Calgary to Banff?
Yes! There are several buses that travel between Calgary and Banff. See above for more info.
Does Banff have an airport?
No, Banff does not have an airport. Banff is a small town nestled between several rocky mountains, it wouldn't even be possible to safely put an airport in Banff. The closest airport to Banff is the Calgary International Airport (YYC), which is about 120km away (75 miles). Most people fly into Calgary than take ground transportation to Banff.
How much does it cost to drive to Banff from Calgary?
The driving distance from Calgary to Banff is 80 miles, or 129 km. The fuel cost to drive from Calgary to Banff is around $11 USD ($15 CAD) each way, or $22 ($30 CAD) round trip.
Which hotels are in Banff?
This is not a complete list! There's also many hostels and bed/breakfasts.
What is the drive like from Calgary to Banff?
The drive from Calgary to Banff takes is a flat drive on a two lane divided highway with lots of things to see along the way. You'll pass a few small towns such as Morley, Exshaw, Seebe and Canmore. You'll probably see wild life along the Transcanada highway so keep an eye out.
Is the drive to Banff safe?
Yes, although you need to be careful with the unpredictable adverse weather conditions in southern Alberta. Drive with caution if it's snowing or under icy conditions. Also, watch out for wild life on the highway. Highway 1/TransCanada is well maintained, and well patrolled too by the RCMP.
Do you need a car in Banff?
You do not need a car in Banff! Having a vehicle does help, but you'll be paying for parking and having to deal with traffic, plus you can't drink. Public transit and taxis are available.
Does Banff have Uber?
No, Uber is not available in Banff. No Lyft. No e-scooters. Ride sharing is not available in Banff. Taxi service is available in Banff.
---
In Conclusion
Getting to from Calgary to Banff is easy, once you see all of the options available to you. The journey itself into the Canadian Rockies is beautiful so make sure to stop frequently along the way, if you can. Safe travels and I hope you enjoy Banff!
If you have any suggestions on something else to include, or other information I might have missed, please drop it below! thanks.